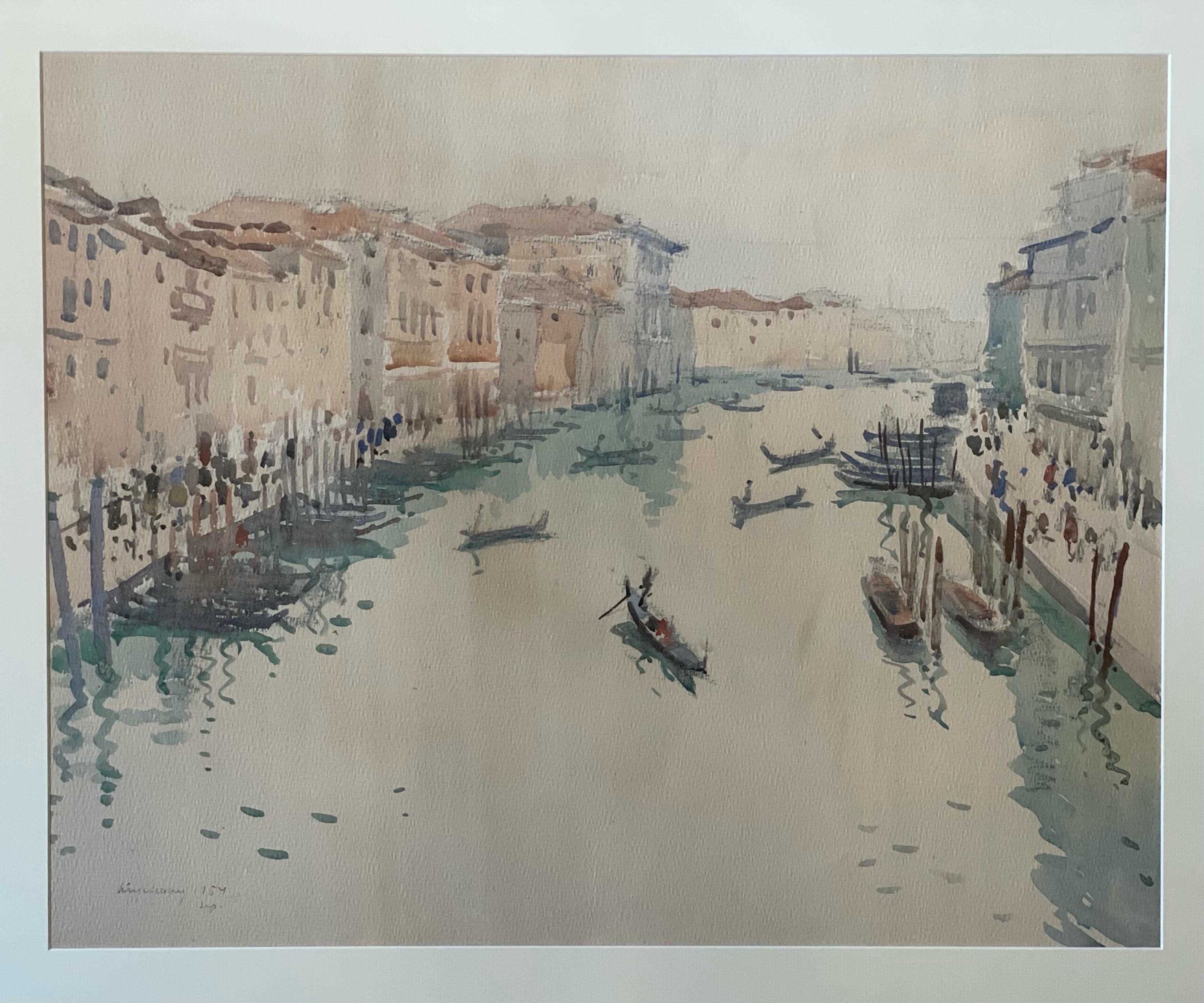 Ukraine House, Washington, D.C.
January 14 – February 11, 2022
The Ukraine House presents a new series of art exhibitions dedicated to Ukrainian artists who lived and worked outside of Ukraine. The first exhibition is dedicated to Mykola Krychevsky, a notable representative of Ecole de Paris, member of a prominent Ukrainian artistic dynasty of Krychevsky family.
The last time the works by Mykola Krychevsky were exhibited in the USA was in November of 1962 (almost 60 years ago). A retrospective, posthumous exhibition entitled "Nicholas Krychevsky, retrospective exhibit of watercolors and oils" took place at Georgetown University Colleges of Arts and Sciences, Raymond H. Reiss Science Building Library – 37th & O St., N.W. The exhibition card described Mykola (Nicholas) Krychevsky as "Ukrainian-born, French neo-impressionist painter." A great neo-impressionist painter of Ukrainian descend indeed, he was.
Mykola Krychevsky was born on November 24, 1898 in Kharkiv, in the family of artist and architect Vasyl Hryhorovych Krychevsky and Varvara Marchenko. He received his primary artistic training at his father's studio at the Kyiv's Art Institute. He also studied art with his uncle, Fedir Hryhorovych Krychevsky.
In addition to art Mykola became involved in theatre. In 1919 he joined the Mykola Sadovsky's theatre troupe and went on a tour to Transcarpathia (Czechoslovakia). As the fate of independent Ukraine at that time has swiftly changed so did the life of a young Mykola, who left Ukraine and never saw his homeland again. He moved West. First to Prague in 1926 where he continued studying at the School of Applied and Industrial Art often visiting Uzhhorod to study with Joseph Bokshai. In 1929 Mykola Krychevsky moved to Paris, the center of western art at that time where he joined a local Ukrainian artistic community – "Le Groupe Ukrainien" ("The Ukrainian group") and soon became part of Ecole de Paris.
With no financial support, no family or friends Mykola Krychevsky succeeded in building a successful career as an artist in this highly competitive milieu. His works were exhibited in Salon d'Automne, Salon des Indépendants, Salon des Surindépendants and Salon des Portraits contemporains in France. Mykola Krychevsky exhibited at numerous Parisian galleries among them Studio 28, Galerie Zak, Jeune Europe, Galerie de la Cité and Galerie de l'Atelier Français. He also worked as textile graphic designer and a set designer at local theatres – Le Théâtre des Arts and Le Théâtre Hebertot.
In 1954 Mykola Krychevsky came to America to visit his step-sister Maria Kobachidze who lived in New York. The artist visited Toronto in 1957 where he befriended numerous members of the Ukrainian diaspora. Having re-discovered his Ukrainian roots and also being able to commercially succeed as an artist in America, Mykola Krychevsky considered moving to the United States. These plans were cut abruptly. The artist died in Paris on September 11, 1961.
On exhibit at the Ukraine House that will open on January 14, 2022 will be presented twenty oils and watercolors by Mykola Krychevsky from private collections. These are mostly landscapes and cityscapes of Paris and Venice ranging in period from 1930s to 1960s and show the elegance of the artist's oils and exquisitely executed watercolors.
On display will be also a book illustrated Mykola Krychevsky: "Tarass Boulba" by Nicolas Gogol, published by Pierre Ardent. The exhibition will be accompanied by a presentation of family photos, memorabilia and imagery of Krychevsky family's contribution to the history of Modern Ukrainian Art. In addition, we will present an album published by The Museum of Diaspora in Kyiv in 2018: "Mykola Krychevsky. Artist and the World" (limited number of the books will be available for sale). We hope this exhibition will inspire academic research of Mykola Krychevsky's oeuvre and would lead to learning more about the personality and artwork by this great artist.
Distinctive members of Krychevsky artistic dynasty:
Vasyl Hryhorovych Krychevsky (1872-1952)
Fedir Hryhorovych Krychevsky (1879-1947)
Vasyl Vasylovych Krychevsky (1901-1978)
Kateryna Rosandich-Krychevsky (1926-2021)